I noticed Eli wasn't playing with his sister that day and he just wanted to be held. He was just 3 years and 1 month old. He has always been a hugger. As I held him I noticed he was feeling warm. He was out side playing in the rain the day before so I just figured he caught a virus. He was either in my arms or laying on the sofa all day. As evening came and he wouldn't eat I knew something was wrong. His fever was 103°. I gave him Motrin to bring fever down. It worked. As I was getting him ready for his bath I noticed his lymph nodes on the side of his neck was swollen. I immediately checked his temp again, 104°+. I dropped my grand daughter off at mom's and took Eli to the ER. (now called Bayfront Hospital)They gave him Tylenol and said "kids get fever for no reason all the time. His fever is down now so take him home because he will be fine". That was Friday night. Saturday Eli woke up but just lay their. I took his temp again, 104°+ again. I noticed his eyes were red and his lymph nodes looked like golf balls below his ears. He had a weird rash from the middle of his forehead down the middle of his face and his ball sac was the size of a 2″ tomato and just as red. Once again I dropped off his sister with mom and took Eli to a different hospital this time.(Fawcett Memorial Hospital) Once again they sent him home saying "kids get fever for no reason all the time" his fever went down while there. That was Saturday. I was up all night with him Saturday night again. Sunday his fever hit 105°+. Once again I drop off my grand daughter with mom. Mom got angry because I kept taking him to hospitals and I showed her what was going on. The peeling hands, the fever, lymph nodes, rash, ball sac. She came to the next ER with us. (North Port ER). Once again we were sent home. In Monday morning I took him directly to his pediatrician and barged in while carrying his listless body. I yelled that my boy is dying and the hospitals won't help him. His Dr came from a room and saw me crying in the hallway. I saw her and quietly said " my boy is dying, please help him. I been to 3 hospitals over the weekend and they say nothing is wrong. Please help him. " Dr Rachna Gulati took one look at him in my arms and told me he is one sick little boy. She told me to take him to Sarasota Memorial Hospital in Sarasota and tell them she said to admit him. I picked up his mother along the way and we took him. Dr Holland at the ER told me his Dr isn't associated with the hospital and told us to go home and alternate Tylenol and Motrin to keep his fever down. I told him "I WILL NOT take my grandson home to die and if he won't help him I will take him from that hospital directly to All Children's Hospital in St Petersburg. " He said " if it bothers me that much ,,,, the Children's hospital has some of their Dr's on the 4 th floor and he will have him evaluated". He was admitted immediately after the evaluation . They trotted 2 spinal taps thinking he had meningitis but something around his spine was too thick and they used the wrong size needle 2 times so they didn't want to do it again. His health went downhill from that point on. That had a special ambulance take Eli to All Children's Hospital. He went from bad to worse in 2 weeks. He swelled up like a balloon due to his liver failing and kidneys failing. They said his heart is swelling up and his lungs were filling with fluids. Eli got the death rattle. That morning his team of Dr's came in and told us we had to make a choice. … 1. We do nothing and Eli will be dead by morning. I said that is not an option. 2. We give permission for them to give him an IVIG . No guarantees. His body might reject it and he will be dead within 4 hours if it does reject it. If it doesn't his body should start healing. After 4 hours he was holding his own. Not getting better but not getting worse. They started him on another bag of IVIG. He woke up the next morning looked at me and said "Mema, I'm hungry". He had pancakes and bacon for breakfast.
Misdiagnosis & Treatments
Kids get fevers for no reason 4 hospitals and possible meningitis
Diagnosing Hospital
All Children's Hospital in St Petersburg Florida
Most Recent Update
No more aneurysms. stress test was good
Donate Today
To Help Kawasaki Kids
---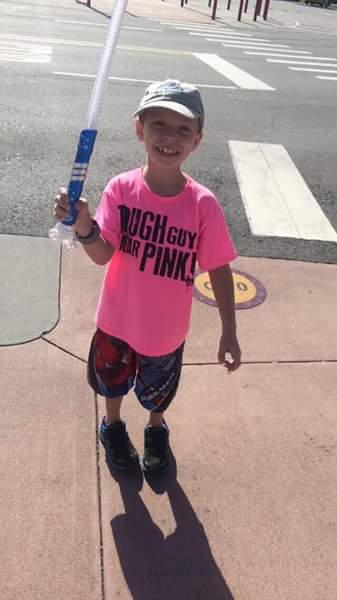 Age at Diagnosis: 5
Day of Diagnosis: 7
Symptoms:
[cs_acf field="symptoms"]
---
Are you a KD family?
We would love to talk with you and learn more about your experience with Kawasaki Disease.
Share Your Story