Evy was 7 weeks old and started not acting like herself. She was very tired, had no interest in taking a bottle, and developed a fever. Evy slept all day, would vomit after taking any amount of bottle, and her fever got worse over a couple of days. She started developing a rash, so we went to the emergency room where the doctors ran blood work, tested her urine, performed an ultrasound of the esophagus and stomach, chest X-ray, and a spinal tap. All tests came back normal, and we were sent home on Tylenol and a diagnosis that Evy had "just a virus." Over the following couple days, Evy was put on an anti-nausea medication to keep her food down. While this helped, it also caused her to have difficulty breathing. Our pediatrician reiterated that Evy had a virus and she was given a shot of antibiotics just in case it was bacterial. Another day went by of no improvement, and her breathing was becoming even more labored. We took her to Rady Children's Hospital in San Diego. Their emergency room also said she had a virus. We were kept overnight for monitoring. The following day Evy developed very red lips and bloodshot eyes. When Dr. Burns came in, she immediately diagnosed Evy with KD. She was given Remicade and IVIG. Her heart arteries had been extremely swollen, but no aneurysms were found. Evy made a full recovery after the treatment.
Misdiagnosis & Treatments
We were told it was just a virus by our pediatrician, an urgent care doctor, and 2 different emergency room doctors. We were told it could be the stomach flu (she was treated with anti-nausea medication), bronchitis, bronchiolitis, allergies, or a bacterial virus (she was given a shot of antibiotics for this). While waiting at children's hospital, we had several doctors and medical students coming in to ask us questions and check Evy out, none of whom had any idea what was wrong with her.
Diagnosing Hospital
Rady Children's Hospital, San Diego CA
Treatment Plan
She was given Remicade and IVIG in the hospital. We followed up at home for a few week with aspirin.
Most Recent Update
Echocardiogram in January of 2016 revealed a healthy heart. There is no evidence of lasting heart disease. We go for yearly echoes.
Donate Today
To Help Kawasaki Kids
---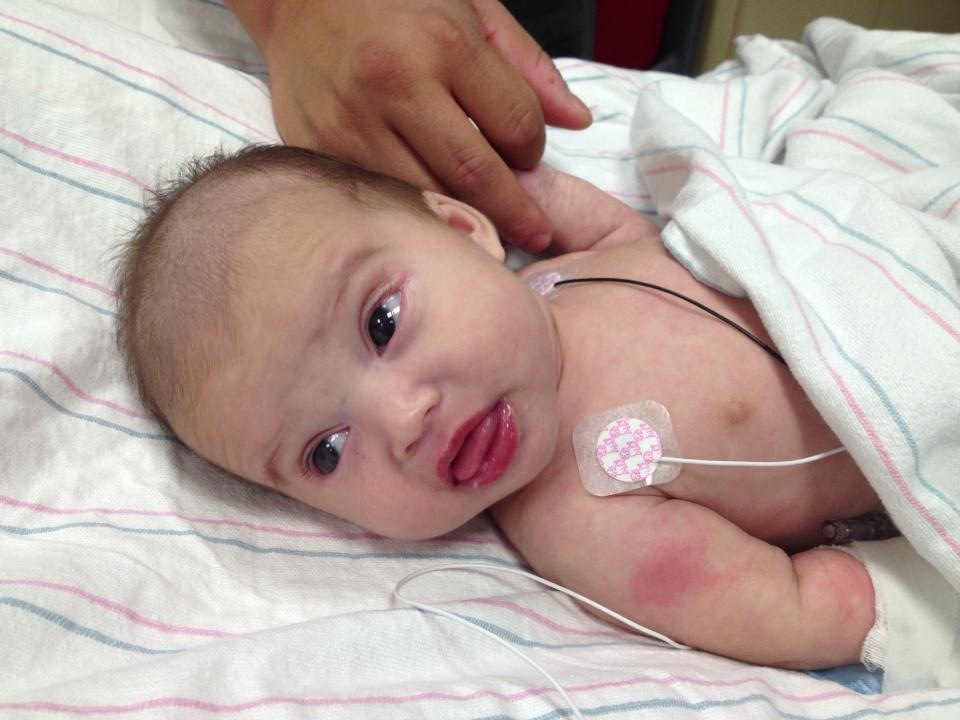 Age at Diagnosis: 7 weeks
Day of Diagnosis: 8
Symptoms:
Fever, Body Rash, Red Eyes, Red Cracked Lips, Strawberry Tongue, Peeling Skin, Irritability
---
Are you a KD family?
We would love to talk with you and learn more about your experience with Kawasaki Disease.
Share Your Story