MEET THE
Kawasaki Kids Ambassadors
About
"Fast" Eddie
"Fast" Eddie Fernandes is an American Golf Professional as well as a Long Drive Professional.  He is the 2018 Volvik Masters World Long Drive Champion. His longest ball in competition is 480 yards which was also the longest ball of the 2018 World Long Drive Tour season. He has made six World Long Drive Championship Open appearances and was the 2015 United States Senior Long Drive Champion.
Why I Support Kawasaki Kids
It is truly humbling and an honor to be a part of the Kawasaki Kids Foundation family and help make an impact on children suffering from Kawasaki Disease and their families. The Logan family does such an incredible job with the foundation and it's a privilege to know and work along side them. 
Cooper Logan | DJ Lil'Coop
About
Cooper
Cooper is an outgoing, charming, full-of-life, 12 year old DJ from beautiful Colorado.
When Cooper was three, he hit a speed bump in life and became very sick with Kawasaki Disease. As a result of that diagnosis, he lives with a giant coronary aneurysm, which has him taking over ten medications a day. Soon after his diagnosis, he had kidney failure and found himself with stage-3 kidney failure.
That doesn't stop Cooper and the passion he has for music, people, and friends. Cooper has had the chance to DJ for MLB Allstar Game Fanfest in Denver, CO, iHeart Radio events, local 5K's, large corporate events, and co-DJ with one of the best at local Colorado State Men's Basketball games.
About Samantha
September 2014: Our 3 yr old daughter, Samantha, came home with a 102 fever and rash covering her back and abdomen. Fever not responding to tylenol. Went to ped next day. Red throat, rapid strep test was negative but treated it as strep with scarlet fever. Had strawberry tongue, peeling/raw anal area. 2 days later, not responding to rx, fever ongoing, returned to ped. Received rocephin shot, still maintaining the scarlet fever diagnosis. Now lips are peeling/bleeding. Took her to the ER the same night as fever was over 104. I mentioned to the ER doc the KD symptoms (knew of KD, as a friend had it in the past) and I was laughed at. He diagnoses her with tonsillitis, brings fever down to 100, and gets penicillin shot. I again bring her back to ped 36 hrs later, agree she meets the criteria for KD, and he admits her. She now has a swollen lymph node in neck. Each day new symptoms would present. The attending ped and infectious disease also agreed on KD, but by this time her fever subsided on its own. IVIG was started on day 7, no heart damage, subsequent echos were normal. 

June 2016: Started with low grade fever, then what appeared to be pink eye, was given eye drops. Went back to school and was feeling better. Two days later, fever at 104,. Went back to ped, he was concerned with the fevers and prior history of KD: strep negative, ear slightly red, still high fever. She did not improve with amoxicillin. Took her to the ER the next day due to high fevers, lethargic . Ran bloodwork: tested + for mycoplasma pneumonia, throat red. Fever is still high. ER started her on Zithromax. Elevated CRP and sed rate. Went to ped again the following day, still high fever, not eating, sleeping a lot. Says give time for Zithromax to work. Went back to ER the next day, 105 fever. Throat red, strawberry tongue, lips getting dry and wanting to crack. Had all the classic KD symptoms. CRP and sed rate higher than Sunday's bloodwork. Gave Rocephin. Admitted to hospital. No rash, no peeling. Uncontrolled fever over a week+, very congested nasally, Cracked lips, elevated inflammation markers. Atypical KD diagnosis was made, and received IVIG that evening on day 8. Normal echos, no aneurysm. 

Samantha is now in 5th grade with a clean bill of health, with no heart damage. She is an avid tennis player, and plays 5 days/week.
About Belle
I woke up one morning at age 11 1/2 with what I thought was a stiff neck, turned out, 12 days later I was diagnosed with Atypical Kawasaki Disease with Coronary Artery Aneurysms.  I had 4 giant aneurysms!  On October 28th, I will have lived with this disease for 6 years. I take daily warfarin (8 1/2 mg) and 3 baby aspirin a week.  I was taken out of all contact sports, which I played nearly every sport, PE class, recess…basically everything I loved!  About 18 months after my diagnosis, my cardiologist at Riley Children's Hospital released me to play golf!  So for the past 4 years I have been very successful in golf and I am also doing a little modeling on the side. Even in these times, I always was able to find the brighter side in things and trust in God who is leading me down a great path. 
About Sarah
I was diagnosed with Kawasaki Disease right before I turned two at day 10. I had a fever of 103 for those 10 days, then got the strawberry tongue and the swollen lymph node, followed by the rash and red lips and eyes – textbook KD. I had echos and stress tests done up until I was 10 when they determined my heart looked healthy.
I am now 23 years old, and the only lasting affect is my compromised immune system from the gamma globulin infusion. I am currently pursuing my dream and am a full-time middle school teacher while still pursuing my bachelor's degree. I also coach Jr. High basketball - which is one of the many sports I played growing up, and I have found a new love for playing cornhole in my free time. I never thought I could do everything I am doing and be who I am today, but anything is possible when you put your mind to it!
Gavin Hamann & Jaxson Remmick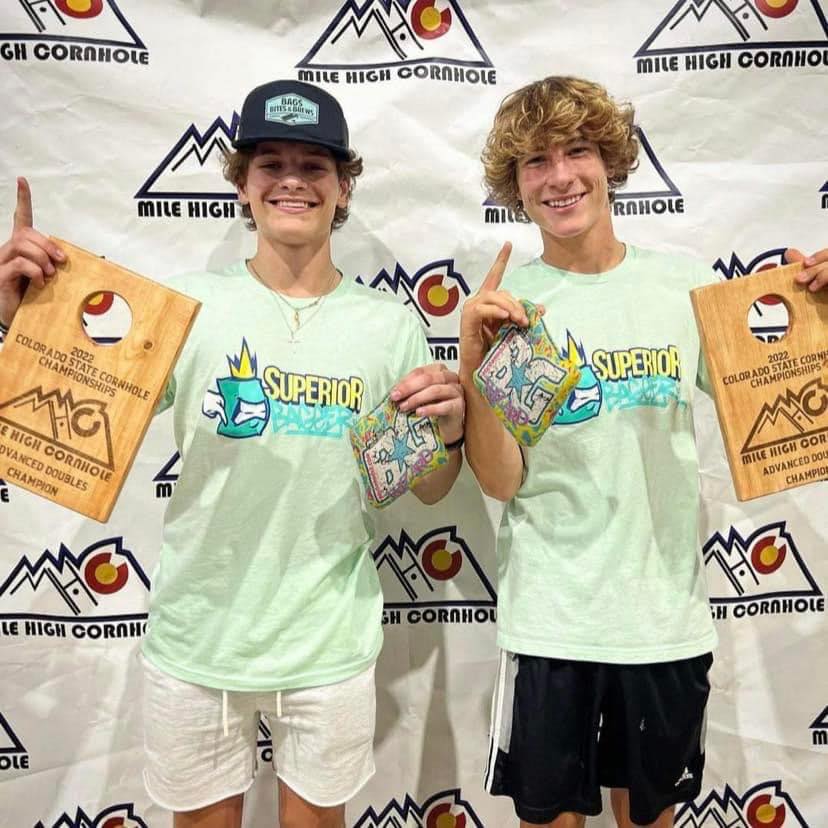 About Gavin & Jaxson
Gavin Hamann and Jaxson Remmick are both 16 years old and attend ThunderRidge High School in Highlands Ranch Colorado. When they are not playing cornhole, Jaxson plays baseball and Gavin plays soccer. They are currently Juniors in high school and the Colorado State Cornhole Doubles Champions and the 2021 National High School Team Cornhole Champions. They are excited to be Ambassadors for the Kawasaki Kids Foundation!