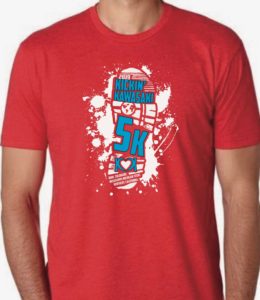 The past two weeks I have racked up the mileage both in the air and over the road. Two weeks ago, I had the pleasure of boarding a Southwest flight and head to Canton, Ohio for our first 5k of the race season. It all started seven years ago, this coming up September when our Cooper was diagnosed with Kawasaki Disease and at that point, we wanted to do a 5k to raise money for this disease. At that time, it was called the Cooper 5k after our little guy and was only held in Windsor, Colorado for the first few years. As the foundation grew, so did the race and the curiosity of other parents wanting to do their own. Our race was widely successful, and I found passion in being able to pull off a stellar event, so why not help other parents be successful in their communities.
We decided a few years ago to change the name and start adding races across the country. The Kickin' Kawasaki 5K race series was born and has done so much for awareness and education in the communities it is held. Race coordinators were excited to dedicate time and resources and get the chance to tell their families story, while hopefully making more people aware of KD. These 5k's are fun for the whole family with a 5k and kids race, bounce house, great sponsors, face painter, DJ, food and fantastic Kawasaki Kids families. 
What's in the name you ask? We are running and walking to KICK Kawasaki Disease. Kawasaki Disease is the #1 reason for acquired heart disease in children. This race raises awareness for Kawasaki Disease, helps support affected families, and raising money to find a cause and diagnosis. You wear socks to run, right? So why not have fun with it. Sport crazy, fun or super cool socks and you might just win a prize – the crazier the better. This is for kids and adults so have fun!
As I mentioned before we just recently had two fantastic 5k's put together by two phenomenal race coordinators that are full-time moms. Putting on a race isn't easy, however, when done right it can be a very rewarding event. Listen to what our two coordinators said about their event and their why.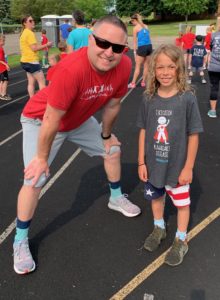 Allana's why:
I wanted To do the 5K to help spread awareness for Kawasaki Disease. We had attended one last spring and I felt like I needed to start my own. So many people I have come in contact with had no idea what my family was going through due to my son Parker's diagnosis. In the process of looking into doing the 5K, I met many families with children who have had KD. I have loved that getting to know these families have been a part of the 5K planning process. Our 5K was so much fun! It was a lot of work but I was so excited to raise the funds that we did and to share the symptoms of Kawasaki disease with the Northeast Ohio community. We had over 100 racers and I can't wait to double that next year!
Crystal's why:
We decided to organize a Kawasaki 5K in our community for several reasons. We wanted a way to give back to the Kawasaki team at children's hospital after diligently saving our little boy's heart. Also, we wanted to raise awareness of the disease and symptoms to help with early diagnosis in our community. Lastly, we love being in contact with other Kawasaki families. It's so nice to be able to talk with other parents about their Kawasaki journey. In the end, organizing and setting up the 5K was a lot of work, but it was so rewarding and worth it. We are already looking forward to next year when we can do it all again! 
– Joe and Crystal Bryant(Parents of Jace Bryant – diagnosed in Jan 2016 when he was 4 months old)
Thank you, Crystal and Allana for proudly representing the Kawasaki Kids Foundation! We still have Parker, CO, Tempe, AZ, and Woodlands, TX still to come this year. Early spring 2020, we are working on a Charleston, SC and Northern California races. Yay!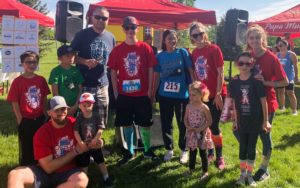 By this point you might be asking yourself, why haven't I done a race in my community yet? The attributes you need to be successful are organization, great network, community involvement, no fear in asking for sponsors, and most of all passion to make a difference.
If you are interested and have what it takes to be successful, we would love to add your city to our list of 5k's for 2020. Please fill out our contact form at https://www.kawasakikidsfoundation.org/kickin-kawasaki-5k/host-a-5k/and we will contact you shortly.