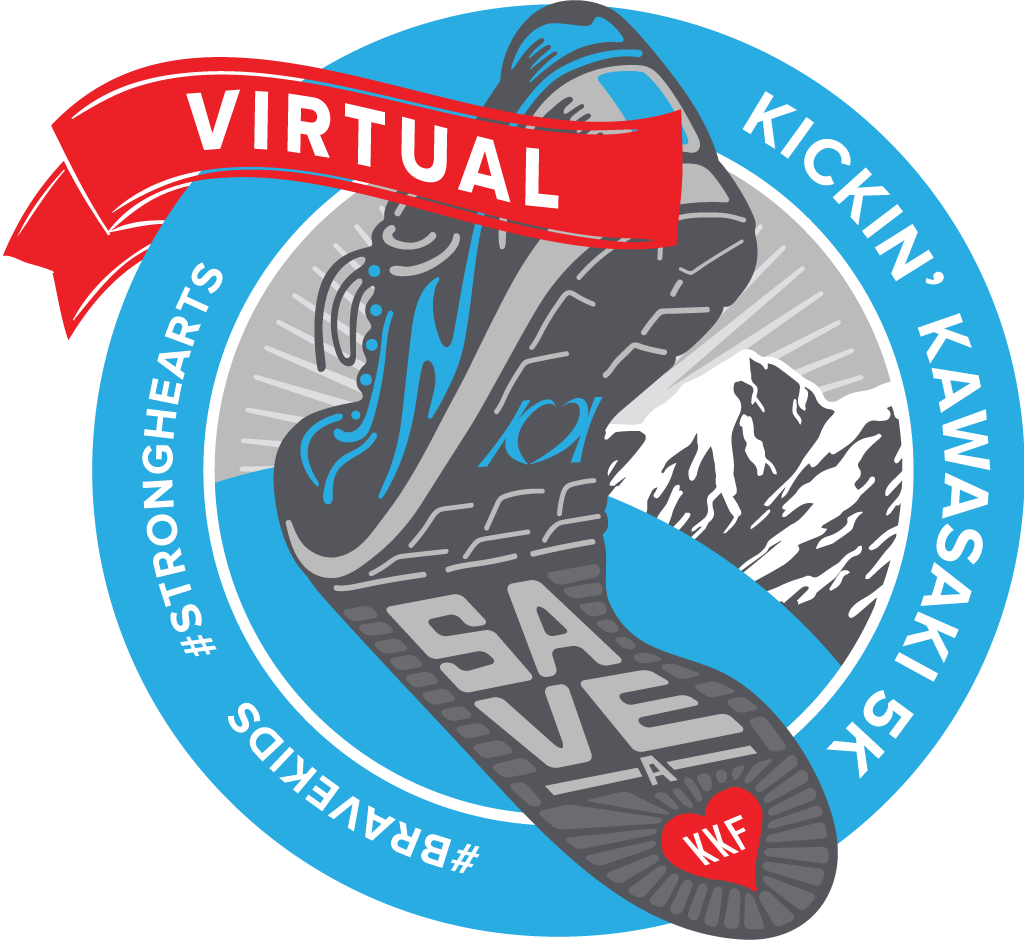 ---
Join our
Virtual Kickin' Kawasaki 5K
November 6, 2021
Welcome to our Virtual Kickin' Kawasaki 5K. We are bringing our widely popular Kickin' Kawasaki 5K and making it virtual on November 6, 2021. This virtual 5k run/walk is dedicated to growing awareness and raising money for Kawasaki Disease, which is the #1 acquired heart disease in young children.
---
Step 1: Register
Sign up today and invite friends, family and colleagues to join your team. 
Step 2: Fundraise
Tell people why you are supporting Kawasaki Kids Foundation and ask for their support. Make it personal to make it powerful.
Step 3: Walk or Run
Run on the treadmill, walk in your neighborhood, or run in the park. All are okay in the this virtual 5K fun-run. 
See the Kawasaki Kids Foundation mission come to life and celebrate your fundraising success during the month of June.
"Kool socks" Theme
Wear Kool socks or dress up your your own to show support for Kawasaki Disease!
Kawasaki disease (KD), also known as Kawasaki syndrome, is a serious illness characterized by inflammation of blood vessels throughout the body that primarily affects young children and infants. Kawasaki disease is the leading cause of acquired heart disease in children. Although about 80 percent of patients are under five years of age, older children and teenagers can also get KD, but this is uncommon. KD is more common in boys than girls, and the majority of cases are diagnosed in the winter and early spring. It is not contagious.
Without treatment, about 25% of children develop heart disease involving the coronary arteries. Timely diagnosis and treatment (which usually includes intravenous gamma globulin) is highly effective in preventing coronary complications.
The Staggering Truth About Kawasaki Disease
are diagnosed with Kawasaki Disease in the United States each year.
develop heart disease when not caught in time and without treatment
How the Kawasaki Kids Foundation has Made a Difference
to support families of diagnosed children and help fund research for a Kawasaki Disease cure
have received an early diagnoses and avoided long-term heart damage because of the foundation's work and events
have been distributed in the United States and Internationally
to support families of diagnosed children and research toward a cure
have ran in the Kickin' Kawasaki 5K Fun Runs that are organized across the United States
have been distributed to diagnosed children by doctors and nurses