Good Morning! Welcome to our Kawasaki Kids Foundation blog, where I will be writing about Kawasaki Disease, being a father, husband, and the Executive Director of the Kawasaki Kids Foundation. My name is Shawn Logan, I'm married with three boys, ages 12, 9, and 5. My beautiful wife is in her last few months of the master's program at Colorado State University. Big brother Dallin is 12 and loves football, basketball, golf, and is a great artist. Jake is 5 years old and is the size of a 8 year old. You will find him doing everything his brothers are in to at the time, and rarely will catch him playing with toys.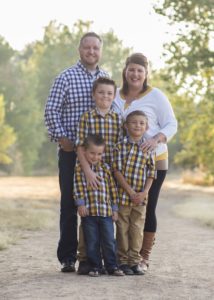 Our middle child is for sure the wild one of the family, keeping us on our toes constantly. Cooper is 9 and is all boy, desperately wanting to play every sport he can and even ride motocross. However, Cooper was diagnosed with Kawasaki Disease (KD) when he was 3 years old and can not do any contact sports. He became very ill, so doctors rushed him into emergency appendectomy to remove his appendix. Unfortunately, the appendix was not the issue and Cooper was hospitalized for the next 12.5 days. Cooper was then diagnosed with KD and sadly missed the vital 10-day window to avoid heart dilation. I will always remember the day we found out at the hospital that he had KD and the thought I had of what the heck is that. I had never heard of this disease, so it was a complete shock. All I could think about was, I didn't do enough for him before we got to Children's Hospital. Before we had him transferred to Children's Hospital Colorado for amazing treatment, he sat lifeless in a hospital in Northern Colorado. I beat myself up daily for not fighting harder for my child, which ultimately fueled a passion inside of me to start this foundation.
Fast forward one and a half years later, we were on vacation as a family heading to Las Vegas. As we started in from Arizona, just coming up over the Hoover Dam, we noticed something not right with Cooper. He hadn't been feeling good the last leg of the trip, which caused him to stay in the car when we would get out to sight see. But, as we came into the Las Vegas valley, I remember seeing parts of his body start swelling up. It was scary for sure, and our doctor told us to rush him to Children's Hospital Las Vegas for treatment. Cooper was bleeding internally, which subsequently turned into full kidney failure. His road has been filled with small and large trials, but he continually tries and finds the positive in his life.
I am not a writer one bit, but I am however a passionate dad who wants to make a huge difference in the KD community. So, there is the "why" for why I am doing this blog. I think about each kid that we run across as an extension of our family! Kawasaki Kids Foundation is a non-profit dedicated to growing awareness, educating those we come in contact with and that even includes the medical community, supporting our Kawasaki Kids and their families, and funding research for a cure or even a test to diagnose easier. We have saved 23 kids as of today due to early diagnosis, which comes from education and awareness from our social media, KD symptom posters, videos, and events we do. That is amazing to me!
Look for these topics in the near future:
How does donating blood or plasma help with an IVIG treatment?
How people can get involved in their community.
What to expect for a child that is caught in time with no heart dilation.
Meet Up with other KD families.
Heart healthy eating when it comes to our children and family.
How to keep peace in the family when there seems to me so much turmoil and stress from sickness.
Are you an open or closed book when it comes to telling your child what exactly is wrong with them?
Ten 5K's in 2019 is impressive, so how do we join the movement?
If you have any topics that you want me to discuss, please feel free to leave a comment. Hopefully you made it all the way to the end and no there is no test. Make a difference in life by finding your why. #bravekids #stronghearts