So, you're asking yourself – How do I grow awareness and educate others about Kawasaki Disease? These days, almost anyone can advocate for any cause. Be it about health, social movements, animals, or politics – you name it, there's a believer in it. The Kawasaki Kids Foundation has fantastic supporters that are continually looking for ways to grow awareness in their community.
How about you? Do you feel strongly for Kawasaki Disease, our foundation, and bringing awareness to a rare disease were precious days count in saving a heart? Here's how you can raise awareness, educate, and get involved.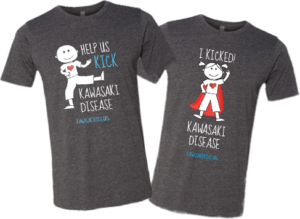 Wear It
Clothing and accessories such as t-shirts, caps, silicone wristbands, and button pins are among the most common items you can use to display your support for a cause. We have made showing support and educating the public easy, by designing some super rad apparel, wristbands, cinch packs, hats, and of course comfy socks. My son Cooper told me to run a special on all our gear, so here it is. For the remaining days of April 2019, you can now get 25% off your whole order by using the code "COOPER".
Raise Funds
Non-profits need money to keep going, so why not jump on board and help your friends at Kawasaki kids Foundation. You can organize bake sales, restaurant nights, a Kickin' Kawasaki 5k, cornhole tournament, or a golf tournament. There are so many options for raising funds these days; all you need is the right motivation, time and a little creativity, plus we here at KKF will help you a 100% of the way.
Donate
Do you feel like you don't have the necessary skills to conduct a fundraising activity? Don't worry – you can always choose to donate. Kawasaki Kids Foundation gives you the option of making a one-time donation or contributing a specific amount of money per month. Your donation of say $10 per month, helps us continue to donate backpacks to Children's Hospitals, support kids who need some Christmas Cheer, fund research, distribute KD symptom posters. Please consider donating today at https://www.kawasakikidsfoundation.org/donate/
Restaurant Night
We have recently had one of our Kickin' Kawasaki 5K race coordinators execute 4 restaurant nights successfully. Here are some ideas to consider before you head out to your local restaurant.
Many national restaurant chains have detailed program descriptions on their sites. Often, restaurants will require your group to fill out a short form or application that is processed at the corporate level. Most of the forms are simple, although a few will ask questions such as "What is your fundraising goal for this event?" (Note: Restaurants often require groups to provide a tax ID number when completing the application.)
Try to make contact between the lunch and dinner rushes (i.e., mid-afternoon). You'll be more likely to connect with a manager who has time to listen and respond to your request.
Review the written terms of the restaurant night program and discuss them with the local manager. Is it a flat percentage or a sliding scale based on the number of guests or amount spent? In a few cases, restaurants may not donate anything if your group brings in fewer than 20 guests. 20% of the gross sales that come in from your event is the norm, but companies like Chipotle are 30% if you raise over $300.
Seek a few volunteers to help with promoting your event and get a few people to be on-site helpers the night of the event. They can do one-hour shifts or work together. You won't need a big group of helpers, but it makes sense to have at least one representative of your group present throughout the evening. Ask whether one or two volunteers are willing to take some photos at the event.
Tell families the date and hours so they know that they have some flexibility and that they don't have to adhere to a rigid schedule.
Communicate that this is a no-fuss event. Let families know that all they have to do is eat, and the restaurant will automatically donate a percentage of what they spend to the Kawasaki Kids Foundation.
Remind supporters what they need to do so your group gets credit—bring the flyer or ticket or mention your group's name. Most restaurants will not allow groups to pass out flyers or tickets on site, which makes it even more important to distribute them widely in advance.
When publicizing your restaurant night, reach out to families in a variety of ways, including email, Facebook, Instagram, and Twitter. Post a screenshot of the flyer on Facebook as a way to catch people's attention.
An average of $300-$400 can be expected from each restaurant night you organize. If you're interested in arranging one in your community email Shawn at shawn@kawasakikids.org
Share Your Story
Nothing can be more believable than people who are campaigning and supporting a cause that they have experienced first-hand or through a loved one. This is especially true for our parents that have special stories dealing with their children being diagnosed with KD.
Share your story online with our Kawasaki Kids Foundation community. Click Here for the link!
Your small way of supporting the Kawasaki Kids Foundation can have a positive impact. Have you found your means to help?
Do it today and start building awareness by hosting an event, donating, or wearing your Kawasaki Kids gear proudly.
Make a difference today!